Are you a teen girl? Become a WriteGirl Mentee!
If you are between the ages of 13 and 18, and live in or near the Los Angeles area, we welcome you to join WriteGirl. The program is FREE, and packed with fun, inspiring creative writing projects. Our season runs from October through June, and we welcome girls to join at any time!
Please complete the online registration form AND download and send in the Parent/Guardian Consent Form. Your registration will not be complete until we have received BOTH forms.
Step 1: Complete the Mentee Registration Form
Step 2: Parent/Guardian Form: Download the form below and fax it to 213.253.2618, email it to membership@writegirl.org, or mail it to 1330 Factory Place, Unit F104, Los Angeles, CA 90013.
Step 3: Once we receive your registration forms, we will contact you! (Please allow a few days for processing.)
Why join WriteGirl?
Are you interested in exploring poetry, songs, screenplays, fiction and other kinds of creative writing? Would you like a professional woman writer to mentor you and help you with your writing? If your answers are yes, then WriteGirl is the right place for you.

Our monthly interactive workshops and one-on-one mentoring from professional women writers in Los Angeles will give you techniques, tools and tips to electrify your writing. You will be joining a growing community of women writers where you can express yourself freely, share your ideas, expand your creativity and develop strong communication skills.

Participation in WriteGirl can help you get your work published, improve your academic performance and turn your ideas, stories and creative vision into powerful messages that can impact the world!
If you still have any questions about joining WriteGirl contact us at membership@writegirl.org or call 213.253.2655
Volunteer with WriteGirl
WriteGirl is accepting applications from women writers to mentor teen girls on a monthly or weekly basis. We are also seeking women AND men writers to mentor our diverse teens at various school sites throughout Los Angeles County. Help our teens explore their creative voice!
Please click one of the links below to learn more and apply to be a volunteer:
If you have any questions about the mentor program please contact WriteGirl at membership@writegirl.org or call us at 213-253-2655.
Apply your professional skills, explore your personal passions, and make a difference in a teen's life. All you need are tenacious communication skills, a love of writing, and the willingness to show up. Once we have reviewed your application, we will contact you about attending a volunteer training session.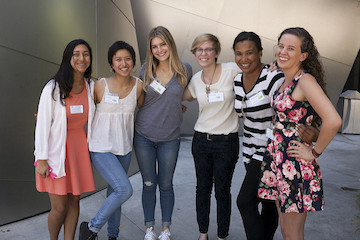 WriteGirl Internships
College Age Internships
UNPAID COLLEGE INTERNSHIPS
We are now accepting applications for summer 2019.
Application deadline: May 30, 2019 at 11:59pm (PST)
Gain skills in event planning, PR, social media, volunteer recruitment and office administration, while supporting a creative writing and mentoring organization for underserved teen girls in Los Angeles. We can tailor the internship to accommodate your specific goals. Please note that this is NOT a mentoring internship, so you will not be directly mentoring girls in their creative writing. Minimum internship: 4 weeks, 3 consecutive days per week, from 11am to 5pm.
Required skills: Strong communication and organizational skills, familiarity with Google Docs and Sheets. Must have reliable transportation.
Internships are unpaid. Perks: You'll be part of a network of successful women writers in TV, film and print!
If you have any questions about the internship program, please email Katie Geyer at membership@writegirl.org or call 213-253-2655.